Reach For The Stars STEM Festival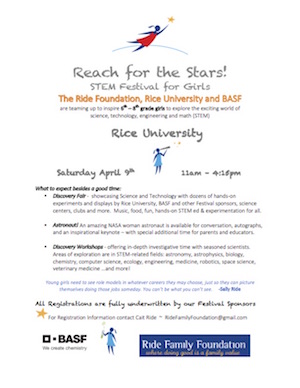 For the past nine years, Rice University has hosted the country's largest Sally Ride Science Festival. The Festival included a street fair, an inspiring talk by a woman astronaut, and thirty women-led science and engineering workshops (each student attends two). Starting in 2016, the Festival is renamed the "Reach for the Stars! STEM Festival", and is sponsored by the Ride Family Foundation and Rice Space Institute.
The next Festival will be held in September or October 2017.
This year all registrations will be free, but preregistration is REQUIRED. See the flyer for details. Email RideFamilyFoundation@gmail.com to register.
---
History of Sally Ride Festivals at Rice University
| | |
| --- | --- |
| 2006 - 2007 | The Rice University Sally Ride Festival was hailed by the Sally Ride Science organization as their best attended and best organized annual festival. In 2006 Sally herself was the first speaker. |
| 2007 - 2008 | The keynote speaker was Eileen Collins. During her talk, we were pleased to have Peggy Whitson greet the attendees from space (she was the first woman Commander of the ISS, and she later greeted Eileen in space when the shuttle visited the ISS. |
| 2008 - 2009 | The keynote speaker was Peggy Whitson. |
| 2009 - 2010 | The keynote speaker was Ellen Ochoa, the first Hispanic woman in space. |
| 2010 - 2011 | The keynote speaker was Wendy Lawrence. |
| 2011 - 2012 | The keynote speaker was Catherine Coleman. |
| 2012 - 2013 | 2012 was special because it was just after Sally Ride passed away in July, so the 2012 Festival was dedicated to her memory, and Wendy Lawrence returned as keynote speaker. |
| 2013 - 2014 | The keynote speaker was Barbara Morgan. |
| 2014 - 2015 | In 2014 Catherine Coleman returned as keynote speaker. In addition, there were 35 hands-on workshops for the students, led by women scientists, engineers, and doctors. |
| 2015 - 2016 | The keynote speaker was Wendy Lawrence. |