Reach For The Stars STEM Festival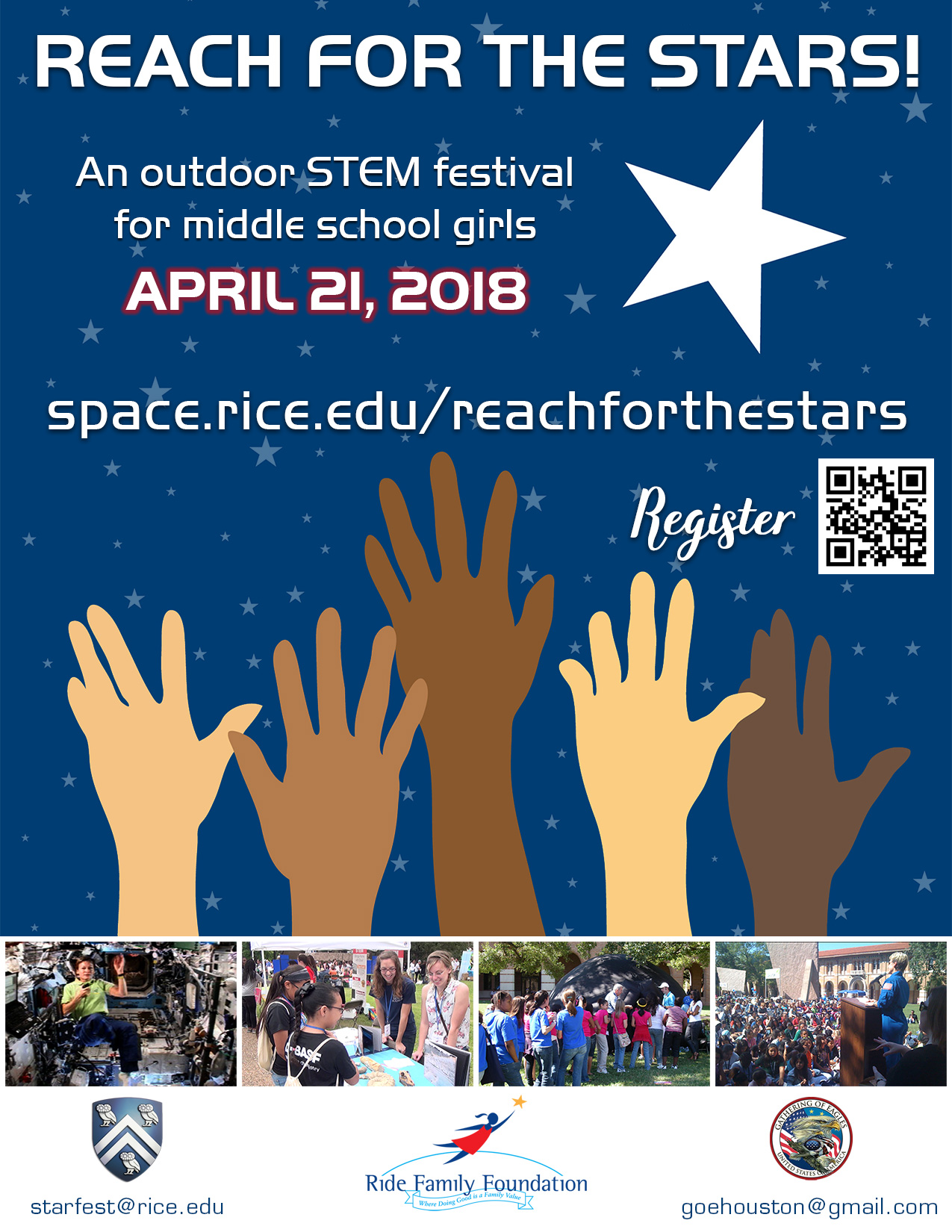 Since middle school is the age where girls typically lose interest in science, Sally Ride asked us to work with her to create festivals to excite and inspire them. The result was that in 2006, Rice University began hosting the annual Sally Ride Science Festival. Sally Ride herself was the first speaker and often hailed the Rice event as the largest and best attended of her festivals. Each annual Festival includes a street fair, an inspiring talk by a woman astronaut, and roughly thirty women-led science and engineering workshops (each student attends two).
Starting in 2016, the Festival was renamed the "Reach for the Stars! STEM Festival", and is sponsored by the Ride Family Foundation and Rice Space Institute.
The next Festival will be held on APRIL 21, 2018 (DELAYED BECAUSE OF HURRICANE HARVEY).
We are very excited that this year the event is not only sponsored by the Ride Family Foundation, but also the "Gathering of Eagles" organization. "Gathering of Eagles" is headed by Elias Sanchez-Perez, a retired NASA engineer who is dedicating his life to improving STEM education especially among women and underserved populations. He was recently featured in a Houston Chronicle article January 6. If that link does not work, see the pdf version archived here.
JOIN OUR EMAIL LIST
Use the email list link to sign-up as a student participant, teacher, parent, sponsor or exhibitor. Note that this is NOT the final student registration; registration information will be sent to those who sign up on this list.

We need: Workshop Presenters (Women in STEM careers), Street Fair Exhibitors, Volunteers, and Financial Sponsors!

To reach the organizers with questions, to volunteer, or to sponsor, send email to starfest@rice.edu

---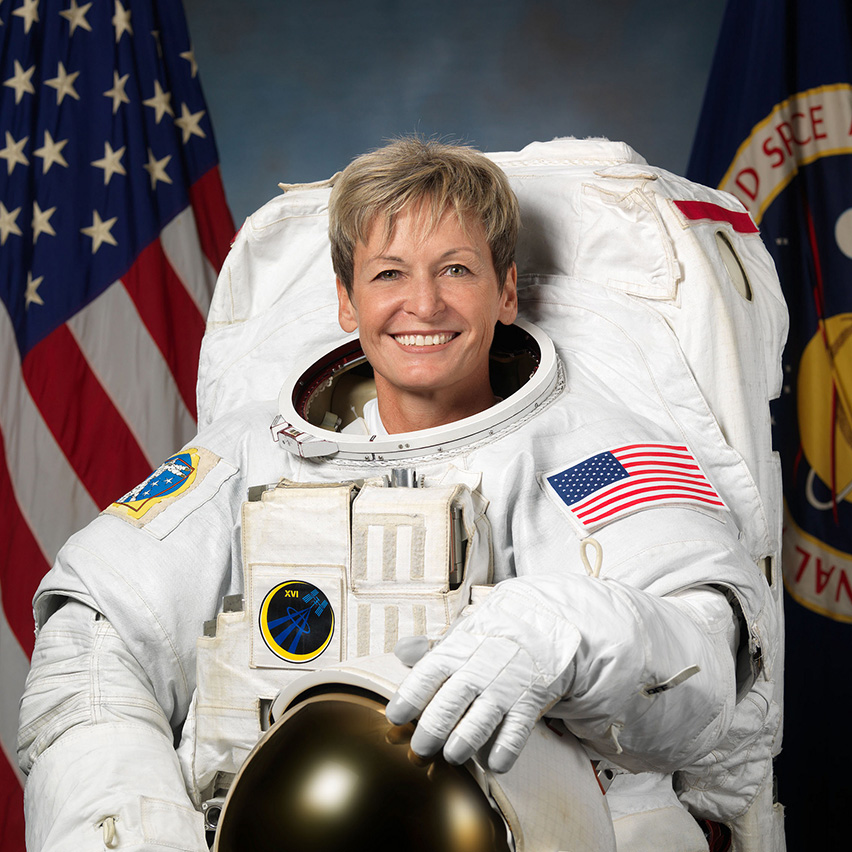 2017 - 2018

The keynote speaker for 2018 will be Peggy Whitson.
We are delighted to announce that Peggy Whitson will return for her third time to thrill the Ride Festival participants!
In 2007 she greeted the girls from space when Eileen was the keynote speaker (see the link to the video below), and in 2008 she spoke in person. Now ten years later and the record-holder for longest single flight of a Woman in Space (289 days), and most total days of an American in space (667!), she returns to her Alma Mater to inspire again!
History of Sally Ride Festivals at Rice University
| | |
| --- | --- |
| 2016 - 2017 | In 2016-2017 Rice hosted the "Conference for Women Undergraduates in Physics" instead of a Ride Festival |
| 2015 - 2016 | The keynote speaker was again Wendy Lawrence. |
| 2014 - 2015 | In 2014 Catherine Coleman returned as keynote speaker. In addition, there were 35 hands-on workshops for the students, led by women scientists, engineers, and doctors. |
| 2013 - 2014 | The keynote speaker was Barbara Morgan. |
| 2012 - 2013 | 2012 was special because it was just after Sally Ride passed away in July, so the 2012 Festival was dedicated to her memory, and Wendy Lawrence returned as keynote speaker. |
| 2011 - 2012 | The keynote speaker was Catherine Coleman. |
| 2010 - 2011 | The keynote speaker was Wendy Lawrence. |
| 2009 - 2010 | The keynote speaker was Ellen Ochoa, the first Hispanic woman in space. |
| 2008 - 2009 | The keynote speaker was Peggy Whitson. |
| 2007 - 2008 | The keynote speaker was Eileen Collins. During her talk, we were pleased to have Peggy Whitson greet the attendees from space (she was the first woman Commander of the ISS, and she later greeted Eileen in space when the shuttle visited the ISS. |
| 2006 - 2007 | The inaugural Sally Ride Festival was created when Sally reached out to us about hosting an event for women. Sally Ride herself was the first keynote speaker. |