Dome Loaner Program
Thanks to NASA support from the CP4SMP program, we have a FREE Discovery Dome loaner program. Museums, science centers, Challenger Centers, or other 501(c)(3) community organizations can rent a dome FREE* for a month. This dome will showcase the shows "We Choose Space" and "Great Planet Adventures" created by the program but will also include other NASA-sponsored planetarium shows, plus Stellarium star software and "WorldWide Telescope" galactic exploration software. In addition, a free immersive game "Monster Trucks on the Moon" is included (can you drive a truck over the Moon or Mars without turning it over or spilling your cargo?)
Note that this program is for rural and tribal schools and museums more than 100 miles from a modern planetarium.
Rules
---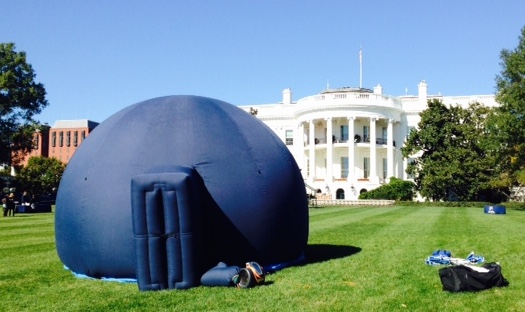 In order to receive a loaner Discovery Dome with "We Choose Space!", "Great Planet Adventures" and other shows and software, your organization must:
pay for shipping to your location, and return shipping of the system back to Houston (or to its next location)
commit to sending someone to Houston for training (or go to one of our outreach events for training, or pay travel for one of us to come train at your site)
have insurance or guarantee for any loss or damage. If the mirror is damaged during use, the cost will vary from $100 (minor scratch) to $1000 (replacement). Total financial commitment is probably $2000 or less
You must also commit for a person to operate the dome, at least part time. You are allowed to sell tickets or otherwise charge (especially if you travel off site), but of course we are hoping to maximize the usage, so keep the fees low.
If you are accepted, you must keep usage statistics for NASA metrics (sorry about that), and fill out an evaluation form. We would also appreciate it if you will help us in educational research with a subset of your users, if appropriate. Preference will be given to rural sites, sites more than 100 miles from a digital planetarium, and sites serving minority groups.
Interested? Fill out the online request form. (Note - even if you have communicated with us previously, YOU MUST fill out the form)
Questions? write or call at the contact info below. Depending on the response from museums, we may open the pool to school districts but for now it is Museums and community organizations. The sooner you apply, the sooner you will have the domel!
Prof. Patricia H. Reiff
Associate Director for Outreach, Rice Space Institute
Rice University MS108, Houston, TX 77251-1892
email: reiff@eplanetarium.com
phone: (713) 348-4634
www: http://space.rice.edu/reiff