Eclipses
This site contains info, educational resources, and animations about eclipses.
---
Upcoming Eclipses in the Americas
November 19, 2021 Partial Lunar Eclipse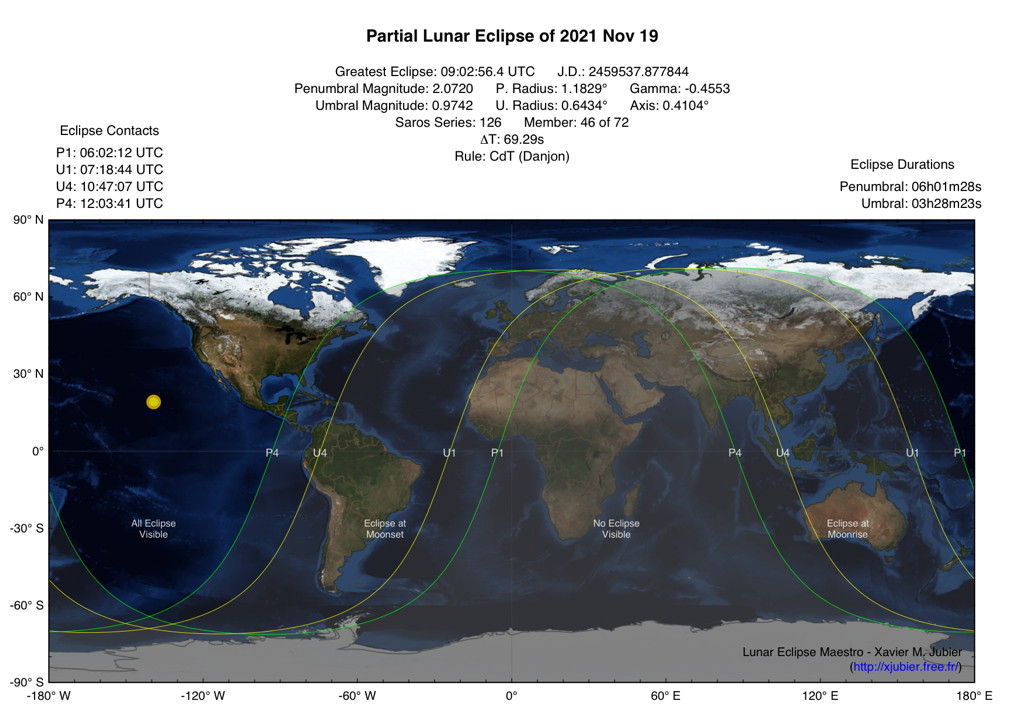 CREDIT: www.greatamericaneclipse.com
December 4, 2021 Polar Solar Eclipse
A solar eclipse at midnight? How can that happen?
During the summer in the southern hemisphere, the Sun doesn't set in the Arctic parts of the world, so a solar eclipse is theoretically possible at all hours of the day. At local midnight over Antarctica, there will be a total solar eclipse lasting ~2 minutes. Most ships traveling to this eclipse will observe the eclipse around 3 or 4 am local time, depending on their location.
What else is unusual about this eclipse?  The Sun will actually be in the Constellation Ophiuchus, not part of the traditional 12 signs of the Zodiac but which actually hosts the Sun for a longer time of year than Scorpio.
CREDIT: www.greatamericaneclipse.com
Mercury, Antares, and Mars should be visible during totality and perhaps the Southern Cross above.

October 14, 2023 Annular solar eclipse
April 8, 2024 Total solar eclipse
---
Eclipse Resources
The following documents are courtesy Rice Space Institute and may be freely copied for noncommercial educational use.
---
Eclipse Animations
View and download eclipse animations of solar and lunar eclipses as seen from various viewpoints
---
Eclipse Training
View a Solar Eclipse 101 video about the eclipse and safe eclipse viewing practices
---
Eclipse Archives
The files in the following directories were sourced on various eclipse trips. (Each directory is typically a different photographer). Please contact the photographer or me for permission to use any image or movie for commercial use. --- Patricia Reiff, Science Lead
Past Eclipse Resources:
Most of these trips were organized by the following tour operator: Ring Of Fire Expeditions - http://www.eclipsetours.com/
Eclipse Image Directories:
Eclipse Tour Summaries: